Balanu Fruity Protein Balls Strawberry & Almonds 110 g
Glutenfrei

Vegan

Ballaststoffreich

Zuckerfrei
Nettomenge (g/ml):
110

Produktionsland:
TÜRKEI
Hersteller / Importeur 
Balanu Org. Gıda San. ve Tic. A.Ş. / Balanu GmbH Deutschland

Über die Verwendung von Produktinformationen
Die Informationen auf dem Produktetikett auf unserer Website und in den Online-Verkaufskanälen sind die aktuellsten Informationen die vom Lieferanten des Produkts an Balanu Organik Gıda Sanayi ve Ticaret A.Ş. weitergeleitet werden. Im Falle eines Unterschieds zwischen den Angaben auf dem Produktetikett und den auf unserer Website und in Online-Verkaufskanälen verfügbaren Informationen liegt die Verantwortung vollständig beim Lieferanten.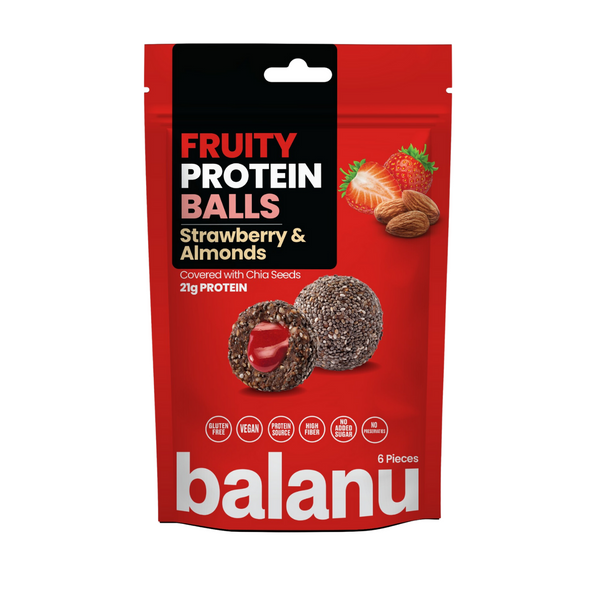 Respectful towards nature
It is important for us not to influence the delicate balance of nature and to protect it.

Certified products
We only support sustainable and certified products and manufacturers.

Great shopping experience, thank you Balanu. Here you will find everything you need for sustainable living.
Sıla B.
It's really nice that I met Balanu while starting a vegan life. Looks like I'll be a regular on this site soon.
Bengisu E.
As such a fast food addict, I do not envy the organic diet, let's see how Balanu will open these doors for me.
Tansu C.